About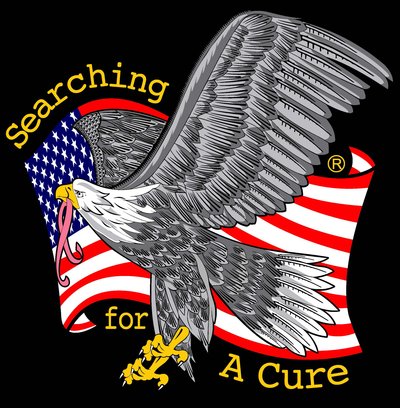 Welcome to the Searching For A Cure website. The United States Internal Revenue Service (IRS) has determined that we are recognized and afforded tax status under Internal Revenue Code (IRC) 501 (c) (3). We are qualified to receive tax deductible bequests, devises, transfers or gifts under section 2055, 2106, or 2522. The IRS has also determined that we are classified as a Private Foundation within the meaning of section 509 (a).
Our goal is to sell merchandise with our logo, an American Eagle carrying a cancer ribbon in its beak with the American Flag in the background. We believe that Cancer sucks in any color. Unfortunately, many colored ribbons designate the numerous types of cancer, as well as, other devastating diseases that we would like to aid in finding cures for.
When you choose to purchase merchandise from our organization, we will donate all the proceeds less the cost it takes to create and ship your item(s) to reputable carefully screened organizations i.e Saint Jude's Research Hospital for Children, Make A Wish Foundation, American Cancer Guild, etc. that aid, treat, or in some other fashion, support patients that are battling these dreaded diseases. We will also utilize the color ribbon, in our Eagle's beak, that is associated with the cause you choose if it is compatible with the colors in the logo. If the color is not compatible, we will use the color Lavender that represents all cancers. We employ the finest Embroidery specialists for items that can be embroidered and we guarantee your satisfaction with all our merchandise. We have listed some of the organizations on our website. If you designate an organization that you want to support, just let us know, and we fulfill that request.
If you choose not to purchase an article of merchandise from our store, you can always donate to us, and your donation will be forwarded to the appropriate organization you choose or one of our choice. Monetary donations are tax deductible per the laws of your state.
We sincerely appreciate your choice to join our quest in the search for a cure and to aid in support of making someone's fight more successful.
Thank you from the entire Searching For A Cure team.
Ron Regan
President and CEO